Skip to Content
Add a sense of tranquility
Water features add an element of peace and tranquility to any outdoor space. With a water feature from Stallings Landscape, you can extend a warm and peaceful welcome to your guests as well. Water naturally evokes a feeling of tranquility, and we can use that to create a beautiful fusion of art and nature, marrying form and function to add an artistic and peaceful touch to your home.
The design experts at Stallings can seamlessly blend your water features with the other natural aspects of your landscape, or we can create a stunning and bold centerpiece that makes a statement. Whether you want a simple pond or an extravagant waterfall feature, the design experts at Stallings will meet with you and discuss your vision to create a unique design that will meet all of your needs while complementing your existing landscape.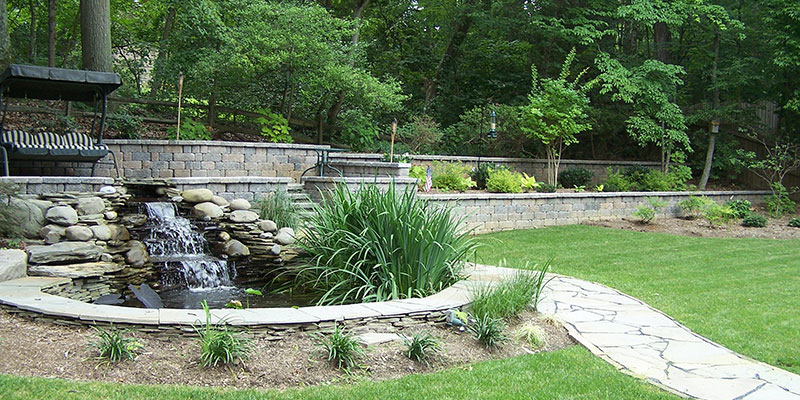 Maintaining your water feature
At Stallings, we'll help you maintain your pond or water feature even after it's been installed. Ponds and water features require a bit of upkeep to continue running smoothly, and we'll be happy to have one of our landscape experts help you.
If you have a water pump, it's important that you are keeping it clean of debris, dead leaves, and other forms of buildup. Ponds have their own unique maintenance needs as well. Whether you have too much algae and weeds or you just need help with spring start-up or winter care, we'll be happy to send out a member of our landscape crew to assist you.